2023.06.30
 | 
views: 457
SEUM IP Hires Hanseul Ryu as Partner Patent Attorney in the Chemical/Materials/Pharmaceutical Field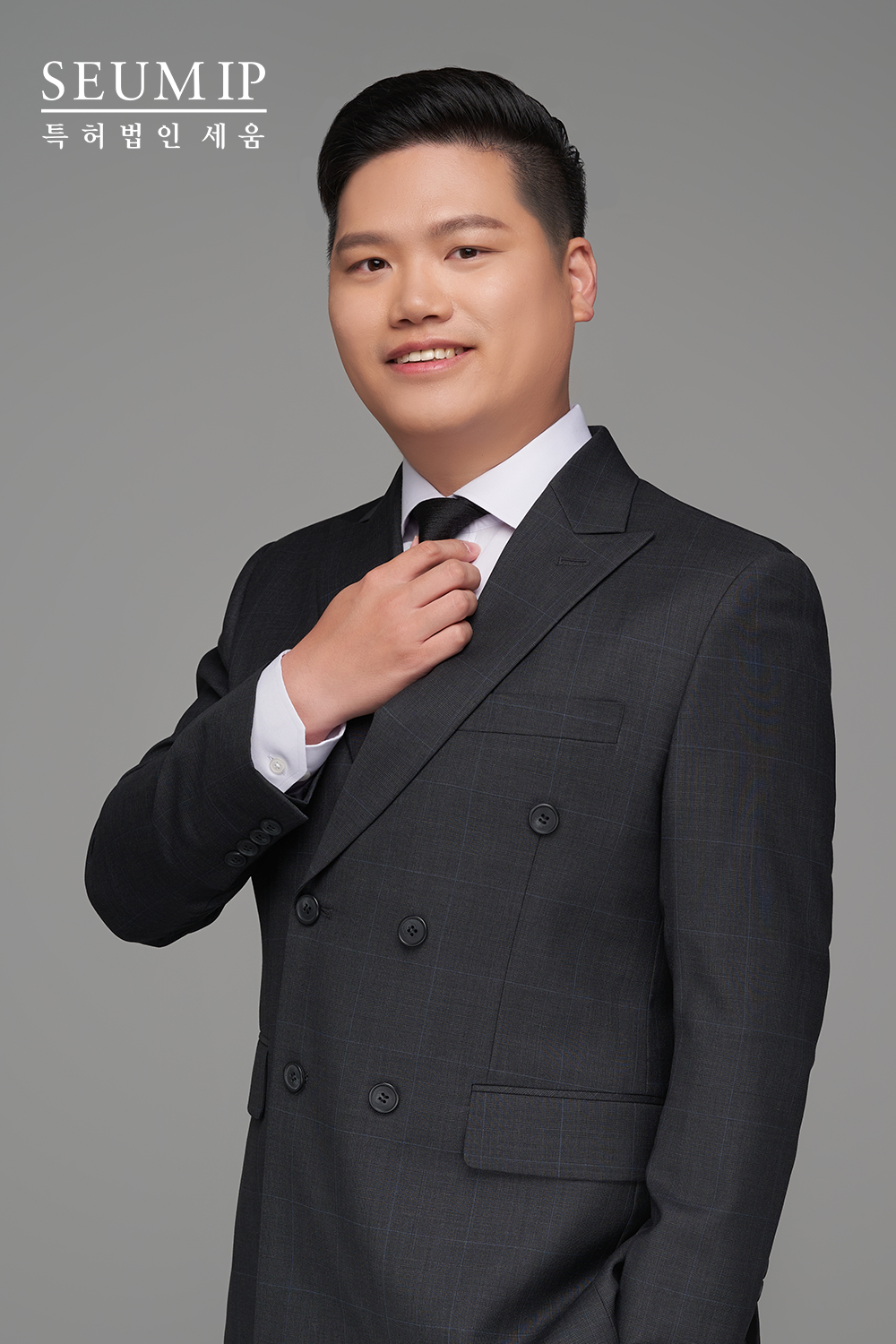 In July 2023, SEUM IP hired Hanseul Ryu as a partner to strengthen its expertise in the chemical, materials, pharmaceutical, and renewable energy fields.
After graduating from Hansung Science High School and Seoul National University's Department of Materials Science and Engineering and passing the 49th Patent Bar Examination, Hanseul worked at Kim & Chang, where he provided patent counseling services, including patent applications and litigation, on behalf of global companies. Mr. Ryu was particularly active in patent disputes related to chemical materials, electronic materials, medicine, and licensing.
Afterward, he worked as a technology evaluator at Shinhan Bank, where he gained unique expertise in IP finance through technology/company evaluations of SMEs and startups in various technology fields such as bio, mobile applications, fintech, and content/SW production, and as an in-house patent attorney at KT&G, where she led IP operations within the company.
At SEUM IP, Hanseul plans to leverage his expertise in IP finance and corporate experience to provide customized IP consulting services for companies in the chemicals, electronics, renewable energy, and pharmaceutical sectors, as well as perform overall IP work, including patent portfolio construction, patent analysis, technology evaluation, and technology transfer for IP monetization.
---
Qualification
2018   Admitted to the Korea Certified Valuation Analyst
2012  Passed the Korean Patent Bar Examination
Education
2012  Seoul National University, College of Engineering (B.E., Material Science and Engineering)
2005  Hansung Science High School
Experience
2023-present  SEUM IP
2020-23  KT&G Corp.
2016-20  Shinhan Bank
2012-15  KIM & CHANG
Representative Matters
[1] Building Patent Portfolios in the Field of Chemistry, Material Engineering, Pharmaceutics
· For global chemical/material/pharmaceutical companies, consulting on patent application strategies and building patent portfolios
· For 3M, Bayer, Henkel, Toray, BASF, and DuPont, which are global major chemical companies respectively, built patent portfolios
· Prior art research and competitor patent trend research to determine the direction of R&D and patent application
[2] Infringement / validity analysis and Patent dispute
· Advised B company on FTO(Freedom to Operate) analysis for fusion proteins for hemophilia, and T company on FTO analysis for adhesive materials
· Analysis of invalidity and possibility of infringement of various material/chemical patents, such as T company's reflective film patent and K company's artificial leather structure patent
· Analyzed the invalidity of e-cigarette patents for global tobacco companies P and B, and Advised K company a patent portfolio for disputes with these patents
· Represented B company in the patent trial related to thrombin inhibitor
· Represented B company in the patent trial and lawsuit related to oxime ester derivatives
[3] Company's intellectual property management
· Establishment patent application strategy and strengthen the patent portfolio
· Set the direction of corporate technology development and mitigate company's patent risks
· Managing patent application for e-cigarette device and tobacco
· Reviewing of design around to competitors' patents and licensing of competitor's patent
· FTO analysis for export products on overseas countries
· Improvement and operation of employee invention remuneration system
[4] IP Financing
· Preparation of Tech Credit Bureau (TCB) for companies in various fields (manufacturing, contents/SW production, etc.)
· Preparation of a technology evaluation report (biotechnology, mobile application, fintech, etc.) for the investment committee
· Conducting corporate IP consulting and supporting financial instruments optimized for company's IP
---